Serrurier Verdun > Car Locksmith
Car Locksmith Services | Chip Keys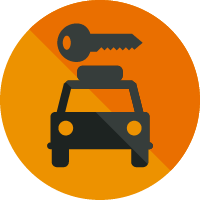 If you need to replace lost car keys, the procedure is quite a bit different than it was 20 or 30 years ago.
That's because today's cars have security features built into the key and ignition to help prevent theft.
While car dealers may say that you should call them for replacement keys, you should be aware that it will be very expensive, and may not happen as quickly as you need.
Replacing car keys is a high profit margin service that car dealers want you to think only they can do.
Express Car locksmith is right on top of the technology in today's cars and can replace your keys for a fraction of the cost and usually much quicker too.
Auto Locksmith Service
For example, many Chevrolets use their proprietary Passlock theft deterrent system.
The way it works is that a sensor in the ignition cylinder "reads" a microchip on the key, makes sure the key is a match for the car, and if so, allows the car to start.
If the microchip is damaged or the sensor breaks, you could be faced with being unable to start your own car.
Qualified car locksmith
The most common reason for having to call a locksmith is lost car keys.
Express Locksmith Verdun is qualified car locksmith that can replace the keys to virtually any model on the road today, at a fraction of the cost charged by the car dealership.
It is always wise to have a second set of keys made even if you don't need them.
Leave them with someone who is trustworthy and easy to reach, and you may be able to avoid an emergency car locksmith call.
Our Services Includes :
Roadside assistance
Standard car key cutting
Electrical car keys
Transponder key cutting
Transponder keys replacement
Lock picking
Spare key making
Car locksmith emergency services
High security locks installation
Unlock door options
Security lock services
Key programming for chip keys & remote keys
Duplicate key for lost car keys
Master key cutting